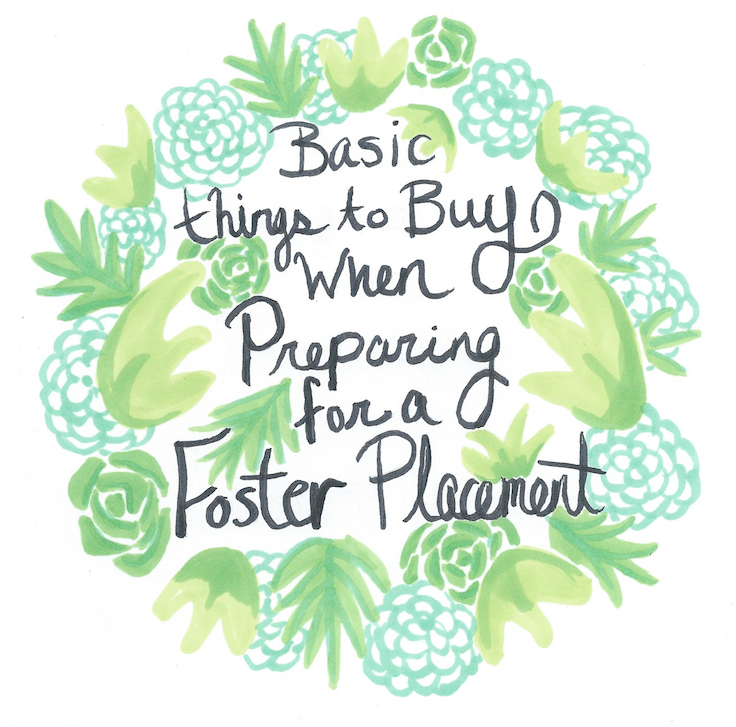 Yay! You're getting your foster license! Your home will soon be filled with children, children that are going to need things. The challenge is that if you've left your door wide open you have no idea what that child will be like. Will you need diapers? Will you need a baby carrier or a booster seat? A crib or a Bed? What about things for them to do? The list of what you might need or want to buy for the future kiddo can go on and on. Before you dive in and spend all your money I recommend you ask yourself these two questions.
Will I need it in the first week of having a placement?
Is it adjustable or convertible?
Thats what I ask myself. It has led me to this list of basic things to buy when preparing for a foster placement.
Adjustable car seat. We have this one from safety first. It can handle a kid from 5 lbs. (newborn) 100 lbs. (1st grader). Every now and then you might be able to get a carseat from your caseworker, but thats not a guarantee so its better to be prepared.
A bunkbed and/or convertible crib. For an inexpensive bunkbed I recommend going to IKEA. That's where we got ours along with the mattresses. For a convertible Crib I recommend something like this one.
Gender neutral bedding. Think light blue, gray, or yellow. You can always get some feminine or masculine things later if your kiddos end up staying for awhile but gender neutral is where to start.
Size Three diapers and pull-ups. I recommend keeping a small pack of size three diapers on hand because they seem to cover the largest age range. Our kiddo started fitting them at four months and I have seen two year olds wearing them. Thats a big age range and a small pack won't take up allot of space and will do the job while you figure out and get a preferred size. Pull-ups are for older kids at night. It is not uncommon for kids to have potty accidents when they experience trauma. Coming to a new home with people you don't know is a trauma so count on getting a few accident. Pull-ups are also great while you figure out if your new kiddo is a bed wetter. This being said, I wouldn't make a kid who is going to school wear them to school and if a child is school aged I wouldn't have them wear them during the day while at home until they have had an accident.
Hygiene Kit. Think tooth brush, toothpaste, body wash, shampoo, wash cloth. Keep in mind your perspective age range. Your preteen probably doesn't want to brush with a kids tooth brush and he's going to need some deodorant.
One can Similac infant formula and a bottle. Some of you might wonder why Similac. I honestly don't know if it is the best or healthiest formula out there. I've never looked. I say Similac though because it's what WIC covers. As a foster child your child is eligible for WIC. Perhaps you prefer a different brand, but odds are that Similac is what a foster child will have had and what they will have if they go back. That means that their formula could be familiar to them and could be the only consistent thing for them, so get the Similac. Maybe you won't need it before it expires, but do you really want to make a run to the store with a hungry infant that you just met in the middle of the night because that is when the call came in?
Dishes, specifically unbreakable dishes. This is good for all parents of young kids, but especially foster kids. Kids are clumsy and they often throw fits when up set. Having a dish shatter because your new kiddo is upset about the unfamiliar food and knocks it to the floor in a burst of emotion is not an issue you want to deal with. Unbreakable dishes is where its at.
Entertainment. Obviously age range will affect this. I've broken it down to three things that will cover all the age ranges for at least a little bit. For all ages I recommend a stuffed animal. I know some teenager won't admit to wanting one, but I think all of the kids could use something to hold onto during the long nights in a new place. For age 0 to 2 I recommend this convertible play station. I personally love that it entertains and contains my 1 year old for a bit while I get some stuff done. For ages 2 and up I suggest coloring books. I recommend getting a few kid ones and an adult coloring book. Coloring is supposed to be calming. Who doesn't want some calm? … In fact you might even want one for yourself as foster parenting is wonderful and stressful at the same time.
Some gender neutral outfits. It's not unheard of for a child to come to you in nothing more than a diaper. I recommend keeping a storage tote with different sizes of clothing in it. Tickled Teal has some gender neutral and fairly inexpensive onesies for ages 0 to 24m. I've bought from them and have been happy with their products. I also like the leggings from Skuttlebum. I've found that if I buy a larger sized they will still work for smaller sizes so its a good one to cover that 0 to 24m age range. When you've collected your clothes I suggest you get a vacuum bag and shrink it down.
I realize this seems like a lot of things, but it should allow you to spend the first bit of time with your new, emotionally distressed kiddo(s) without needing to run out the door the moment the case worker leaves. Is there something you think I missed? I'd love to hear about it in the comments below.
Have a g'day
Gum Tree